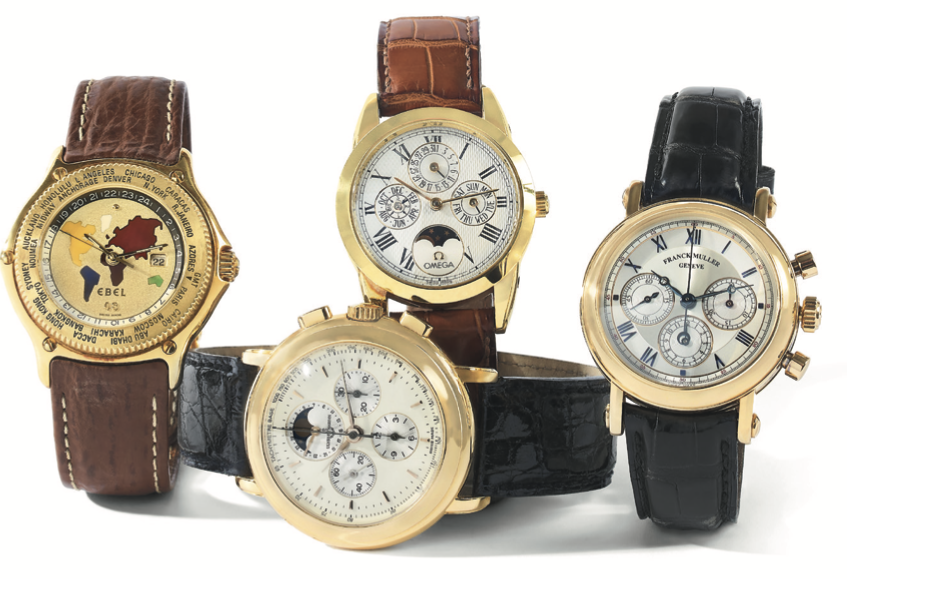 Dès le 8 décembre prochain, Artcurial invite tous les amateurs d'horlogerie à redécouvrir les pièces qui ont marqué la fin du 20e siècle ! Luxury Timepieces présente une sélection de près de 150 montres de luxe et pièces horlogères emblématiques des années 1980 et 1990. La première maison française met à l'honneur cette fabuleuse période qui signe le renouveau de l'horlogerie moderne.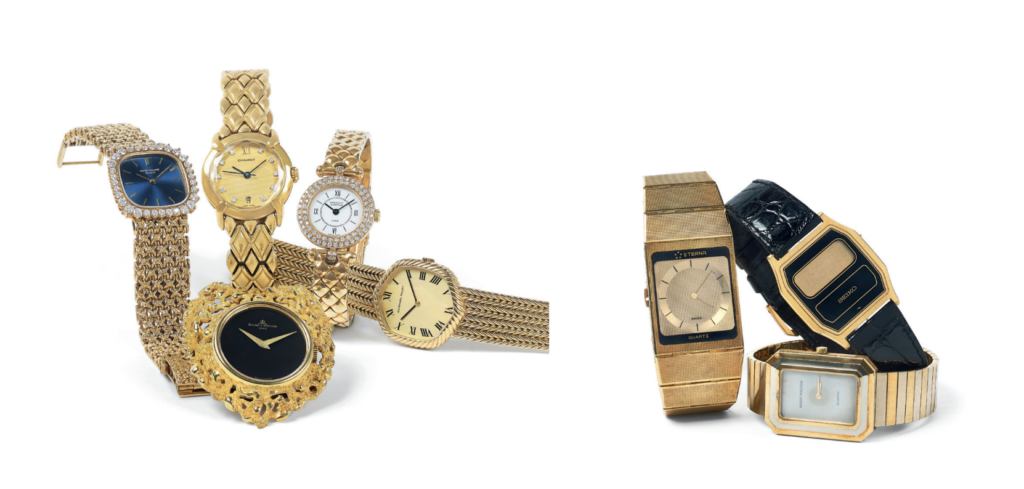 Après la révolution du quartz durant les années 1970, les plus belles manufactures réintroduisent dès les années 1980 des complications légendaires dans leurs collections.
Avec des estimations accessibles, cette vente sera l'occasion de craquer pour une « World Time » signée Ebel ou encore de s'offrir, dans sa version « De Luxe », le mythique chronographe Louis Brandt II lancé par Omega en 1991 !
Des marques historiques comme Audemars Piguet, Ulysse Nardin et IWC y côtoient les horlogers les plus audacieux de la période comme Harry Winston, Gerald Genta ou encore Franck Muller.
L'horlogerie féminine rythmera également la vente avec une sélection de pièces vintage particulièrement attractives signées Patek Philippe, Piaget ou Van Cleef & Arpels. Montres de cocktail ou garde-temps à l'allure sportive, tous les styles sont au rendez-vous !
Enfin, une sélection de plusieurs pièces avant-gardiste à affichage digital seront proposés aux amateurs. Parmi les pièces les plus originales, un rare modèle ultra-plat en or produit par la manufacture horlogère japonaise Seiko. Un véritable collector qui fut à l'époque comme la montre à quartz la plus fine du monde !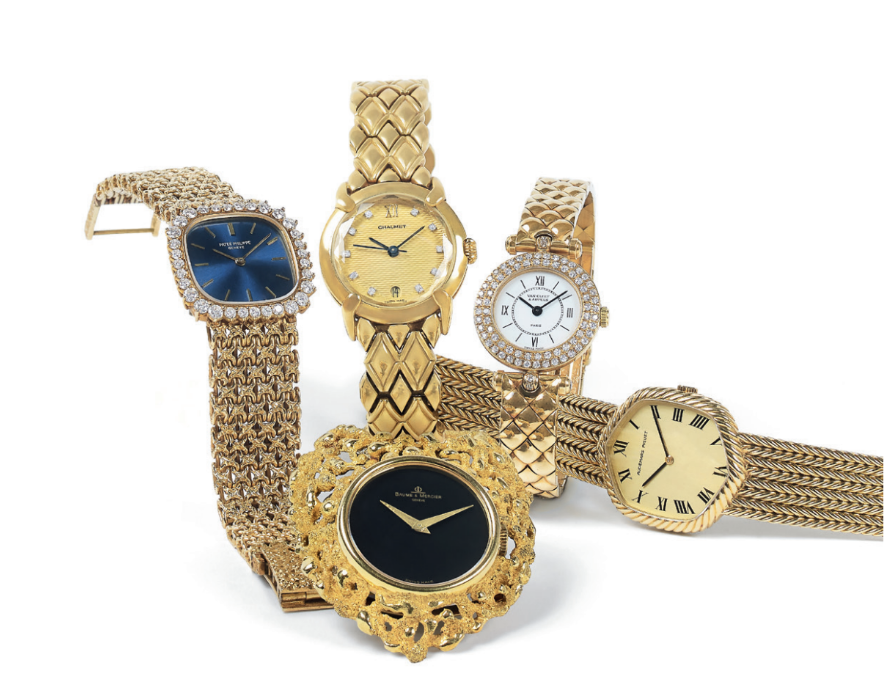 PATEK PHILIPPE
Montre en or, cadran bleu, lunette sertie de diamants
Estimation : 800 – 1.200 €.
AUDEMARS PIGUET, No B39649
Montre en or, mouvement mécanique
Estimation : 1.000 – 1.500 €.
CHAUMET, No 203518 : Montre en or, index diamants,
mouvement quartz – Estimation : 1.000 – 1.500 €.
BAUME ET MERCIER, No 404532
Anneau de foulard en o, cadran peint,
mouvement mécanique.
Estimation : 800 – 1.200 €.
VAN CLEEF & ARPELS, No SV2131Q1 : Montre en or, lunette diamants,
mouvement quartz – Estimation : 1.000 – 1.500 €.
ETERNA
Montre en or extra-plate, mouvement quartz.
Estimation : 800 – 1.200 €.
SEIKO, n°970008
Montre en or extra-plate, affichage
digital. Estimation : 400 – 600 €.
HARRY WINSTON, n°14834.
Montre en or bicolore, mouvement quartz.
Estimation : 1.000 – 1.500 €
Rendez-vous online sur www.artcurial.com du 8 au 15 décembre prochain !
ARTCURIAL
Fondée en 2002, Artcurial, première maison de ventes aux enchères en France basée à Paris, conforte en 2022 sa place de premier plan sur le marché de l'art international. Avec 3 lieux de ventes à Paris, Monaco et Marrakech, la maison totalise 216,5 millions d'euros en volume de ventes en 2022. Elle couvre l'ensemble du champ des grandes spécialités : des Beaux-Arts aux Arts Décoratifs, Automobiles de collection, Joaillerie, Horlogerie de collection, Vins fins et Spiritueux… Résolument tournée vers l'international, Artcurial affirme son réseau à l'étranger avec des bureaux de représentation à Bruxelles, Milan, Monte-Carlo, Munich et Marrakech, ainsi qu'une présence en Autriche et en Espagne. En avril 2023, Artcurial s'implante en Suisse par l'acquisition de la maison de vente Beurret Bailly Widmer Auktionen avec l'ambition de développer son réseau au sein de cette zone européenne.
Plus d'informations : https://www.artcurial.com/ – Artcurial : 7 Rond-Point des Champs-Elysées Marcel Dassault – 75008 Paris – FRANCE.
AMILCAR MAGAZINE GROUP
Selection by : Rachel Joulia-Helou, editor-in-chief of AMILCAR MAGAZINE GROUP.
AMILCAR MAGAZINE to discover on Linktr.ee :
https://linktr.ee/amilcarmagazine

Publishers :
Rachel Joulia-Helou, editor-in-chief of AMILCAR MAGAZINE GROUP.
Alexandre Joulia, photographer and deputy editor of AMILCAR MAGAZINE GROUP.
More information about AMILCAR USA – AMILCAR CANADA – AMILCAR UK MAGAZINE:

AMILCAR MAGAZINE GROUP :
AMILCAR MAGAZINE & THE RIGHT MAGAZINE ISSUE:
CLUB AMILCAR GROUP:
Discover our brands in the windows of the Club Amilcar on B Signature Group :
Discover our members in the windows of the Melià Paris Opéra hotel : Hôtel Paris Opéra Affiliated by Melia :
Address in Paris : 3 Bd Montmartre, 75002 Paris – click here