Swatch collabore avec les Simpson ! Qui résiste à un donut bien moelleux ? Personne !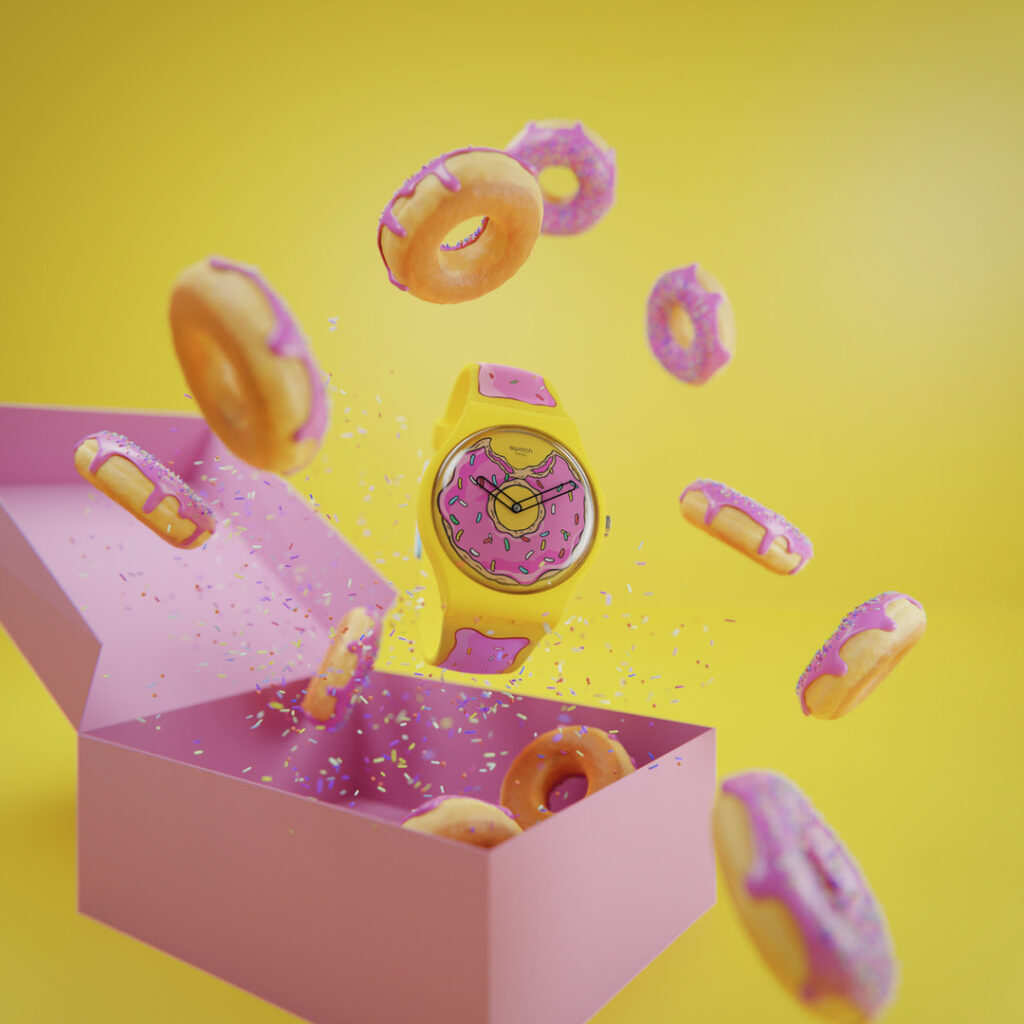 Swatch l'a bien compris : elle lance une édition spéciale à l'effigie de The Simpsons. Pour mettre en appétit les fans de la marque et de la série télévisée ! SECONDS OF SWEETNESS est un clin d'oeil appétissant au célèbre donut nappé d'un glaçage rose, que l'on associe d'emblée à Homer Simpson. On en ferait qu'une bouchée !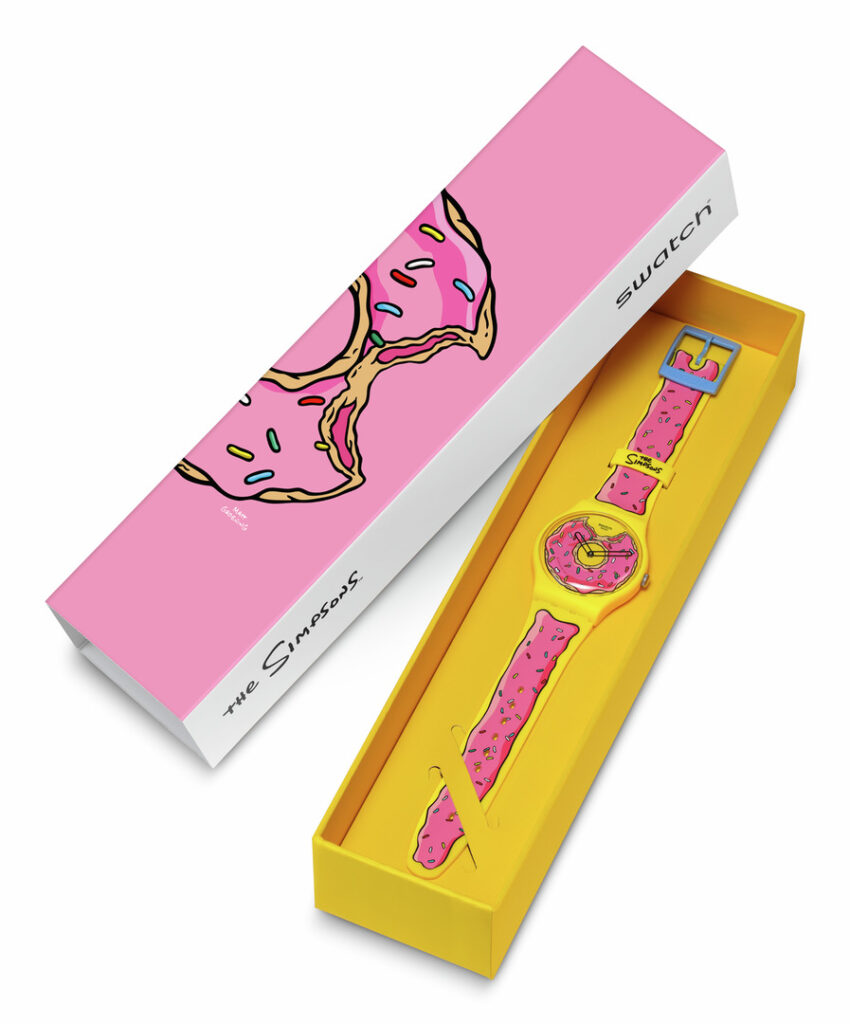 Descriptif produit :
SECONDS OF SWEETNESS
Boitier 41mm en plastique jaune
Cadran jaune imprimé donut rose
Bracelet en silicone jaune imprimé glaçage rose, logo sur passant
Mouvement à quartz
Prix : 105€ PPC
Swatch s'invite chez les Simpson pour les fêtes
Swatch célèbre les moments les plus mémorables de la famille Simpson durant les fêtes avec deux montres débordantde joie et de bonne humeur : le cadeau parfait pour les fans de Swatch et des Simpson.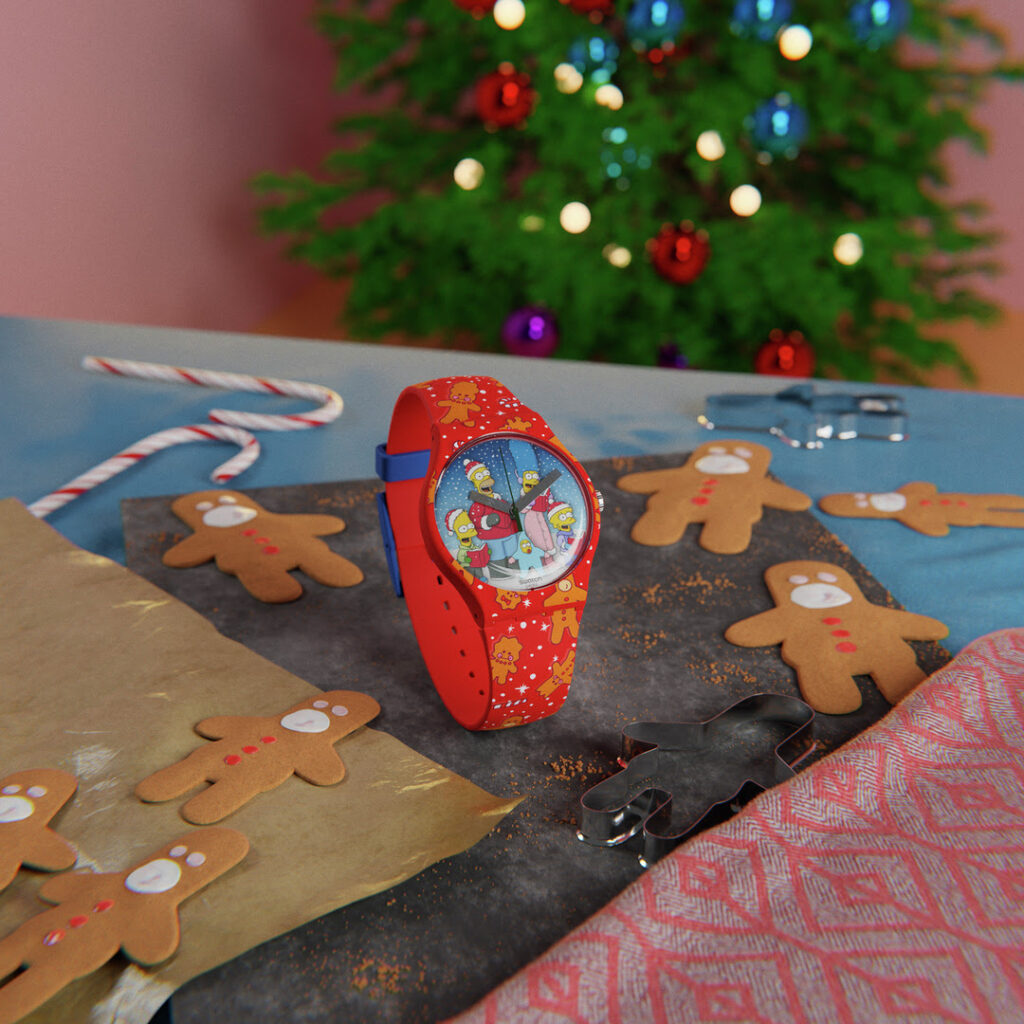 Enchanté WONDROUS WINTER WONDERLAND ! Ses personnages en pain d'épice inspirés des Simpson dansent joyeusement sur le bracelet enneigé de la montre. Son cadran rassemble la famille au grand complet – Homer, Marge, Bart, Lisa et Maggie – pour entonner des chansons qui réchauffent le coeur.
Ambiance festive garantie avec TIDINGS OF JOY ! Marge et Homer apparaissent sur un décor enneigé sur le bracelet, alors que Bart, Lisa et Maggie occupent le devant de la scène sur le cadran. Ensemble, ils répandent l'esprit des fêtes en chantant sous la neige.
Les modèles WONDROUS WINTER WONDERLAND et TIDINGS OF JOY seront disponibles dans le monde entier sur swatch.com et dans les boutiques Swatch dès le 16 novembre 2023.
L'année se termine en beauté avec ces deux nouveaux modèles et SECONDS OF SWEETNESS – mais ce n'est pas tout ! Car comme d'habitude avec Swatch, c'est que le début…
Descriptif produit :
WONDROUS WINTER WONDERLAND
Boitier 41mm en plastique rouge
Cadran imprimé The Simpsons
Bracelet en silicone rouge imprimé gingerbread, logo sur passant
Mouvement à quartz
Prix : 105€ PPC
Descriptif produit :
Boitier 34mm en plastique bleu
Cadran bleu imprimé The Simpsons
Bracelet en silicone bleu imprimé The Simpsons, logo sur passant
Mouvement à quartz
Prix : 105€ PPC
À PROPOS DE SWATCH
Provocation positive et joie de vivre made in Switzerland ! Swatch bouscule l'industrie horlogère depuis sa création en 1983. Grâce à ses designs percutants toujours dans l'air du temps, Swatch fait partie des leaders de l'horlogerie et des marques les plus prisées au monde. Le tout, en restant toujours fidèle à elle-même. L'entreprise ne cesse de surprendre, que ce soit avec de nouveaux modèles ou des collections spéciales. La façon révolutionnaire dont Swatch pense et agit se reflète dans son engagement de longue date en faveur des sports d'action comme le BMX, le longboard ou le surf. Le Swatch Art Peace Hotel à Shanghai incarne la passion de la marque pour l'art et rassemble des artistes du monde entier.
À PROPOS DES SIMPSONS
Imaginée par Matt Groening et produite par James L. Brooks et Sam Simon, la série Les SIMPSON a battu tous les records de longévité de l'histoire de la télévision. En 1990, elle devient un véritable phénomène culturel. Aujourd'hui encore, c'est une des licences les plus emblématiques et les plus innovantes de l'univers du divertissement : le monde entier connaît ses personnages. Alors que la 35e saison bat son plein, la série les SIMPSON a remporté 35 Emmy Awards, 35 Annie Awards, 9 Environmental Media Awards, 7 People's Choice Awards et 13 Writers Guild of America Awards. D'ailleurs, Les SIMPSON est la première série d'animation à avoir remporté un Peabody Award ; elle a même reçu l'Institutional Peabody Award en 2019. La série a été nominée aux Oscars en 2012 pour son court-métrage « Dure journée pour Maggie ». Suivie de « Rendez-vous avec le destin » (2020) et de « Le Réveil de la Force après la sieste » (2021), sorti en exclusivité sur Disney+. Le film Les Simpson a été couronné de succès. La méga-attraction « The Simpsons Ride, à Universal Studios, a connu une expansion historique avec l'ajout de « Springfield » – ce qui lui a valu un Thea Award en 2009 et en 2017. La série a aussi été honorée d'une étoile sur le Hollywood Walk of Fame en 2000. Le jeu sur mobile Les Simpson Springfield, lancé en 2012, a reçu un Webby Award en 2018. Le Time Magazine a nommé la série « Meilleure série du XXe siècle », l'Entertainment Weekly en a fait la « plus grande sitcom américaine » en 2013 et vulture.com l'a qualifiée de « meilleure série de tous les temps » en 2016.
Les SIMPSON est produit par Gracie Films Production en association avec 20th Television Animation. Créée par Matt Groening, développée par James L. Brooks, Matt Groening et Sam Simon. Les producteurs exécutifs des Simpson sont James L. Brooks, Matt Groening, Matt Selman et Al Jean. Gracie Films Worldwide Brand Division est responsable de la création et de la production du contenu de la série sous licence.
On peut "liker" la série sur Facebook à l'adresse facebook.com/TheSimpsons ou suivre Homer Simpson @HomerSimpson et @TheSimpsons sur Twitter à l'adresse https://twitter.com/TheSimpsons. Pour participer aux discussions, il suffit d'utiliser l'hashtag #thesimpsons ou de s'abonner aux Simpson sur Instagram.
AMILCAR MAGAZINE
Selection by : Rachel Joulia-Helou, editor-in-chief of AMILCAR MAGAZINE GROUP.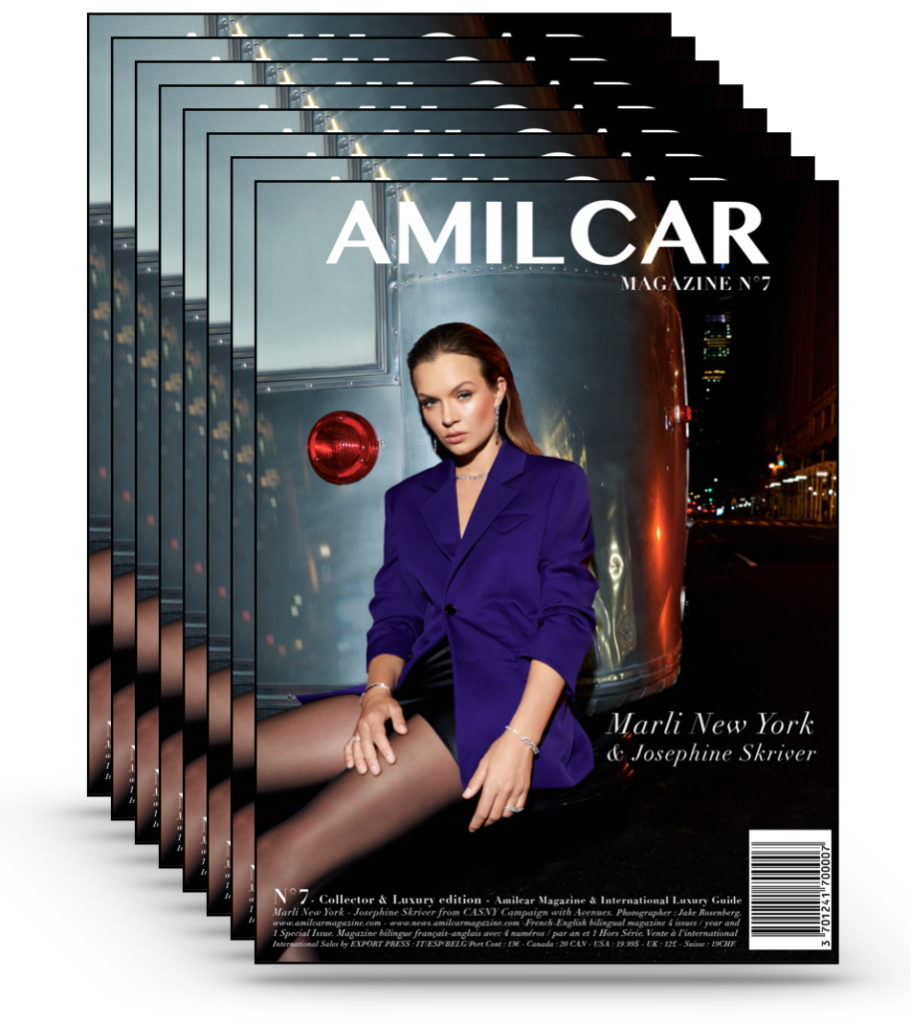 AMILCAR MAGAZINE to discover on Linktr.ee : https://linktr.ee/amilcarmagazine
Publishers :
Rachel Joulia-Helou, editor-in-chief of AMILCAR MAGAZINE GROUP.
Alexandre Joulia, photographer and deputy editor of AMILCAR MAGAZINE GROUP.

More information about AMILCAR USA – AMILCAR CANADA – AMILCAR UK MAGAZINE :
AMILCAR MAGAZINE GROUP :
AMILCAR MAGAZINE & THE RIGHT MAGAZINE ISSUE :
AMILCAR CLUB GROUP :
Discover our brands in the windows of the Club Amilcar on B Signature Group:
Discover our members in the windows of the Melià Paris Opéra hotel: Hôtel Paris Opéra Affiliated by Melia :
Address in Paris : 3 Bd Montmartre, 75002 Paris – click here