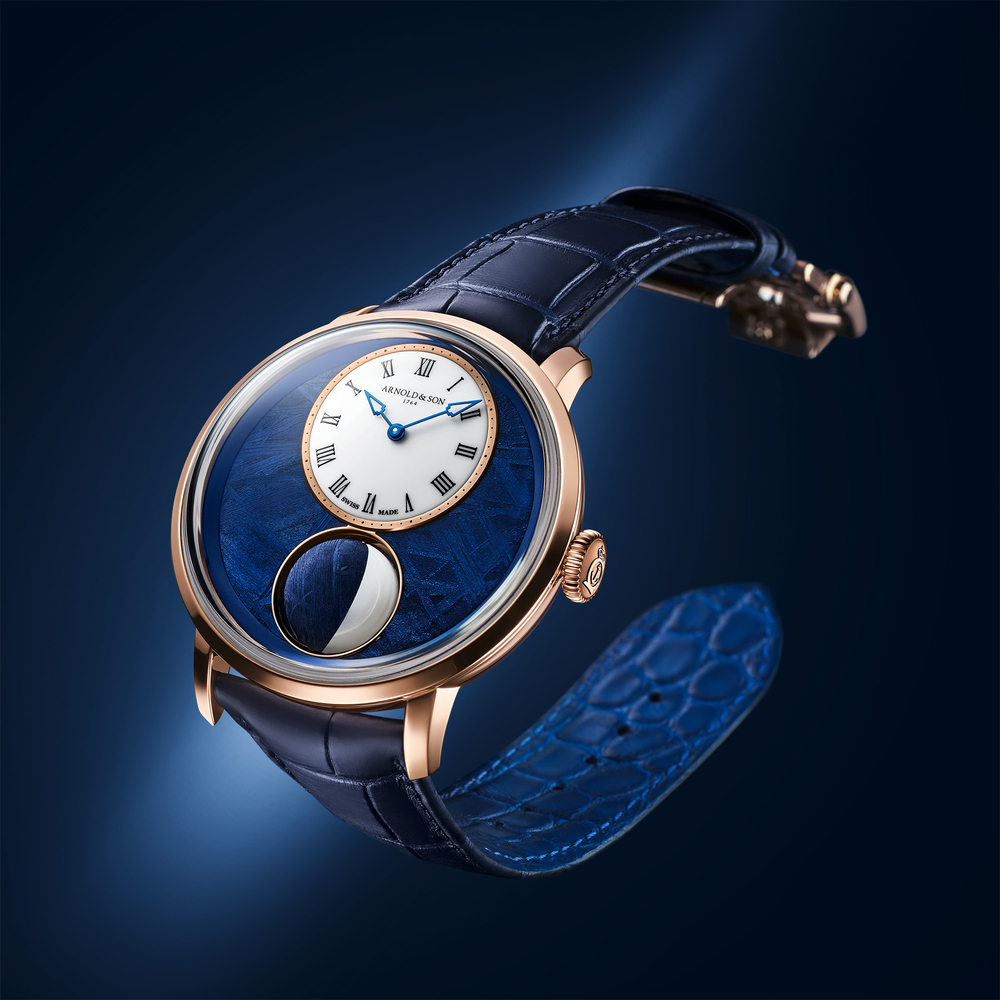 Arnold & Son présente la nouvelle montre météorite en or rouge Luna Magna.
L'horloger suisse Arnold & Son a dévoilé une nouvelle édition en or rouge et météorite de sa bien-aimée montre à phases de lune Luna Magna, proposée dans une édition limitée de 38 pièces.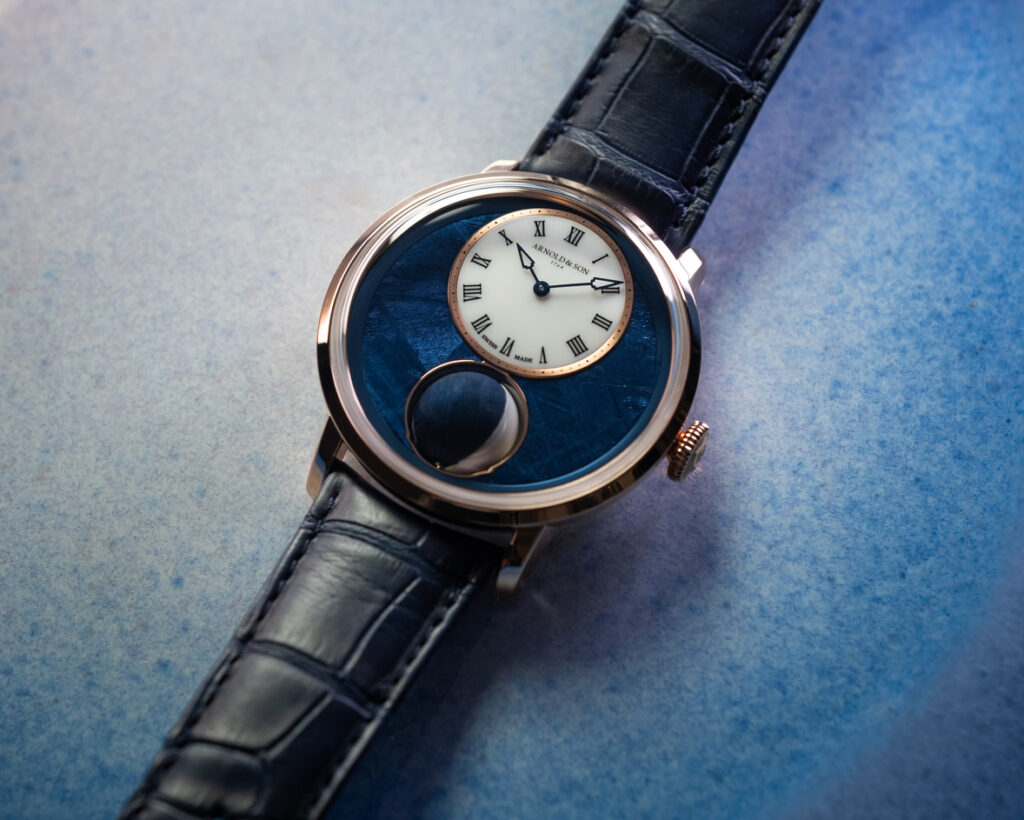 À mi-chemin entre Mars et Neptune, entre chaud et froid, la palette de couleurs de la météorite Luna Magna Red Gold évoque le ciel, le feu et les étoiles. Sa complication tridimensionnelle phases de lune lui confère un aspect astronomique, le boîtier en or rouge de 44 mm un côté terrestre et le cadran météorite traité PVD bleu une dimension stellaire.
La plus grande de toutes les lunes reçoit une nouvelle interprétation rare et précieuse dans des teintes dynamiques. Avec des contrastes entre ses nuances, ses matériaux et ses perceptions, la Météorite Luna Magna Red Gold prend vie par les oppositions, les symboles et les énergies de ses composants fondamentaux.
Le compteur affichant les heures et les minutes revêt un éclat laiteux, presque lunaire, grâce à sa surface en opale, une pierre semi-précieuse appréciée pour sa couleur blanche, dont la délicatesse complète parfaitement la complication unique de la Météorite Luna Magna Red Gold. Le cadran spacieux, libéré par la structure de cet affichage, est constitué d'un grand disque de couleur bleue météorite ferreuse selon le procédé PVD. L'éclat chaleureux de l'or rouge, qui contraste avec le cadran bleu nuit, complète le look précieux et sobre.
DES DÉTAILS D'EXCEPTION
Les structures géométriques entrecroisées et dentelées de la météorite, connues sous le nom de motifs de Widmanstätten, reflètent la lumière sur une vaste surface rappelant la mer de tranquillité. Ne dissimulant en rien leur profondeur, le traitement PVD bleu mat profond les révèle au contraire subtilement à ceux qui savent les chercher. La lune, une sphère formée pour moitié d'opale de Cacholong et pour moitié de météorite bleue PVD, reflète la nature du corps céleste. La façon dont ces textures captent la lumière, sa rotation contrôlée par une complication exclusive, en font un garde-temps en constante évolution, d'autant plus que la moitié opale de la lune et le compteur sont recouverts de Super-LumiNova, ne révélant que leur couleur bleue. lueur verte – invisible le jour – une fois la nuit tombée.
UN MÉCANISME SANS FIN
Luna Magna Red Gold Meteorite est animée par le calibre A&S1021, qui a été entièrement développé, usiné, assemblé et ajusté dans la manufacture Arnold & Son. Ce calibre à remontage manuel, conçu en pensant au globe lunaire, dispose d'une réserve de marche de 90 heures et d'un organe réglant oscillant à une fréquence de 3 Hz. Le mouvement comprend également un affichage secondaire détaillant l'âge de la lune sur le fond du boîtier. Ses marquages ​​clairement lisibles sont conçus pour des réglages lunaires de haute précision. La mécanique céleste sophistiquée s'appuie également sur une réalité astronomique précise. La durée d'un cycle lunaire complet est de 29 jours, 12 heures, 44 minutes et 2,8 secondes, et Arnold & Son a réussi à le reproduire de telle manière qu'il faudra 122 ans pour que l'affichage du mouvement s'écarte de l'heure céleste correcte. lecture d'ici un jour. La correction requise à ce moment sera facile à réaliser, puisque la fonction phase de lune de la Luna Magna Red Gold Météorite est directement accessible depuis la couronne. Cette fonctionnalité pratique a été rendue possible grâce à la maîtrise totale d'Arnold & Son du processus horloger.
À propos de Arnold & Fils
Nommé d'après John Arnold, un horloger anglais du XVIIIe siècle réputé pour son ingéniosité et son travail sur les chronomètres de marine, Arnold & Son perpétue aujourd'hui son héritage, explorant les façons contemporaines d'interpréter l'artisanat horloger traditionnel.
Depuis sa Manufacture basée à La Chaux-de-Fonds, berceau de l'industrie horlogère suisse, Arnold & Son développe en interne ses garde-temps y compris ses calibres à complications. La Maison a créé des collections emblématiques telles que la Pyramide du Temps à l'architecture unique, la Nebula dotée d'un mouvement entièrement squeletté, la Perpetual Moon et la Luna Magna affichant parmi les phases de lune les plus spectaculaires du marché ou encore la Globetrotter, impressionnante minuterie mondiale tridimensionnelle. . La vingtaine de calibres présentés à ce jour par Arnold & Son ont tous été conçus, conçus, développés, usinés, décorés, assemblés et ajustés par sa manufacture sœur, La Joux-Perret. Cette indépendance et cette créativité démontrent la capacité de la Maison à perpétuer les inventions exceptionnelles de John Arnold. Pour plus d'informations, visitez arnoldandson.com
Selection by : Rachel Joulia-Helou, editor-in-chief of AMILCAR MAGAZINE GROUP.
AMILCAR MAGAZINE to discover on Linktr.ee : https://linktr.ee/amilcarmagazine
Publishers:
Rachel Joulia-Helou, editor-in-chief of AMILCAR MAGAZINE GROUP.
Alexandre Joulia, photographer and deputy editor of AMILCAR MAGAZINE GROUP.

More information about AMILCAR USA – AMILCAR CANADA – AMILCAR UK MAGAZINE :
AMILCAR MAGAZINE GROUP :
AMILCAR MAGAZINE & THE RIGHT MAGAZINE ISSUE :
AMILCAR CLUB GROUP :
Discover our brands in the windows of the Club Amilcar on B Signature Group:
Discover our members in the windows of the Melià Paris Opéra hotel: Hôtel Paris Opéra Affiliated by Melia :
Address in Paris : 3 Bd Montmartre, 75002 Paris – click here