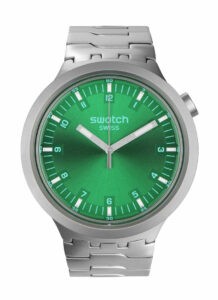 Swatch vous propose de découvrir sa sélection de cadeaux pour célèbrer les fêtes de fin d'année.
Parmi les best-sellers pour Homme et pour Femme, vous retrouverez entre autres les Bioceramic Scuba Fifty Fathoms en collaboration avec Blancpain, les Bioceramic What if?, les Big Bold Irony et Swatch Art Journey.
NOS SÉLECTIONS DU JOUR POUR Noël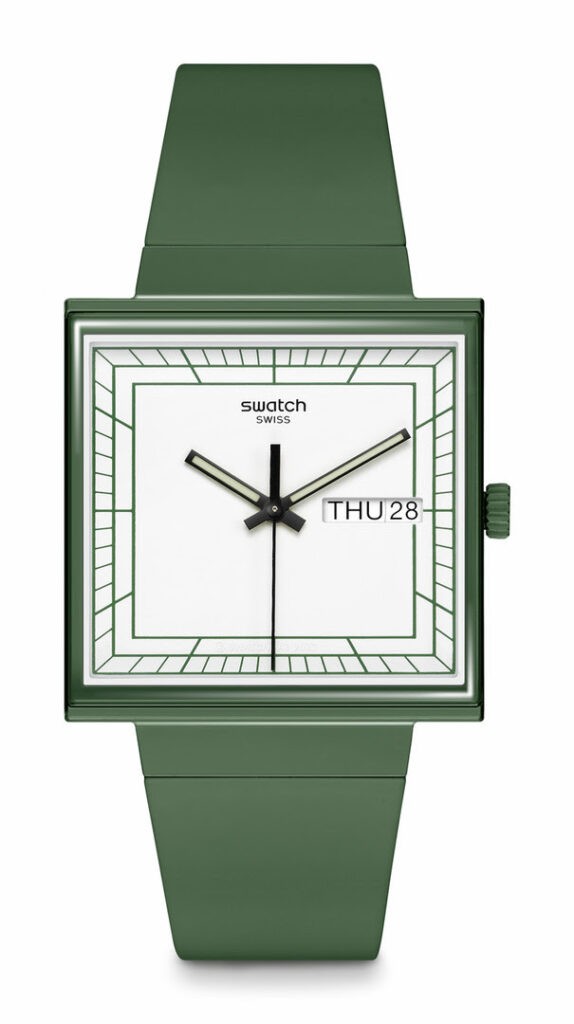 WHAT IF … GREEN ?
Son boîtier carré en BIOCERAMIC arbore un verre bord à bord biosourcé qui offre une vue latérale sur les index de la montre. Le cadran carré est doté d'aiguilles glow-in-the-dark et d'un affichage du jour de la semaine et de la date à 3 heures. Un bracelet biosourcé intégré complète l'ensemble. Au dos, un couvre-pile imprimé représente un des cadrans dont est inspirée cette montre verte carrée.
Boîtier carré 33x33mm en biocéramique vert kaki
Cadran blanc, aiguilles phosphorescentes, guichet date
Bracelet biosourcé vert kaki
Mouvement à quartz
Référence : SO34G700
BRUSHED RED
Boîtier rond 47mm en acier inoxydable sablé
Cadran brossé soleil vert, chiffres arabes et index blancs, aiguilles argentées phosphorescentes
Bracelet en acier inoxydable sablé
Mouvement à quartz
210€ PPC
Plus d'informations : https://www.swatch.com/fr-fr/
SÉLECTIONS AMILCAR MAGAZINE GROUP : Rachel Joulia-Helou, rédactrice en chef AMILCAR MAGAZINE GROUP & THE RIGHT NUMBER MAGAZINE.
Découvrez nos autres sélections sur AMILCAR CHRONOS :
UN HOMMAGE À UNE ICÔNE HORLOGÈRE – FIFTY FATHOMS DE BLANCPAIN & SWATCH
SWATCH PASSE AU CARRÉ AVEC LA NOUVELLE COLLECTION BIOCERAMIC WHAT IF?
AMILCAR MAGAZINE to discover on Linktr.ee :
https://linktr.ee/amilcarmagazine

Publishers :
Rachel Joulia-Helou, editor-in-chief of AMILCAR MAGAZINE GROUP.
Alexandre Joulia, photographer and deputy editor of AMILCAR MAGAZINE GROUP.

More information about AMILCAR USA – AMILCAR CANADA – AMILCAR UK MAGAZINE :
AMILCAR MAGAZINE GROUP :
AMILCAR MAGAZINE & THE RIGHT MAGAZINE ISSUE :
AMILCAR CLUB GROUP :
Discover our brands in the windows of the Club Amilcar on B Signature Group:
Discover our members in the windows of the Melià Paris Opéra hotel: Hôtel Paris Opéra Affiliated by Melia :
Address in Paris : 3 Bd Montmartre, 75002 Paris – click here