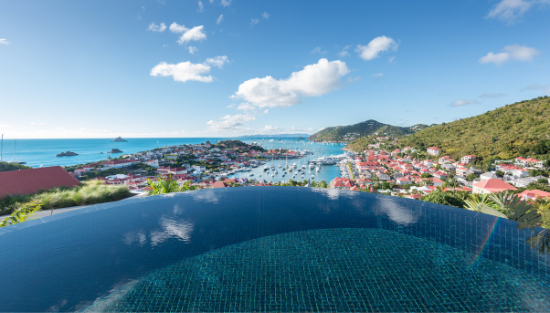 C'est sur l'île française de Saint-Barth, dans les Caraïbes, à quelques encablures de l'Europe, que Barrière a ouvert son dernier projet : un hôtel 5 étoiles qui respire le luxe, l'élégance et le charme à la française. Ici, sur un léger promontoire qui lui donne l'allure du pont et de la proue d'un yacht au mouillage, l'hôtel Barrière Le Carl Gustaf et ses 23 chambres, suites et bungalows (dont une suite penthouse) sont amarrés dans les Caraïbes, offrant un hébergement luxueux au pays des alizés.
Depuis le 1er novembre l'hôtel a réouvert ses portes pour une 4ème saison depuis sa création. Vous retrouverez les classiques de cet établissement haut de gamme comme le Spa Diane Barrière ou le Shellona Beach Club, mais une nouveauté prend place pour vous faire saliver : Le Beefbar St Barth !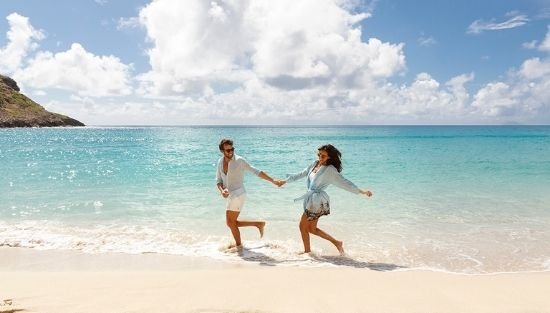 "Le Carl est une propriété qui accueille des amis. Ses propres amis. Dans une élégance tropicale qui crée une ambiance de bien-être, de détente et de lâcher-prise. Mais ne vous y trompez pas, le Carl Gustaf est un hôtel on ne peut plus français, qui défend une élégance et des savoir-faire typiquement tricolores.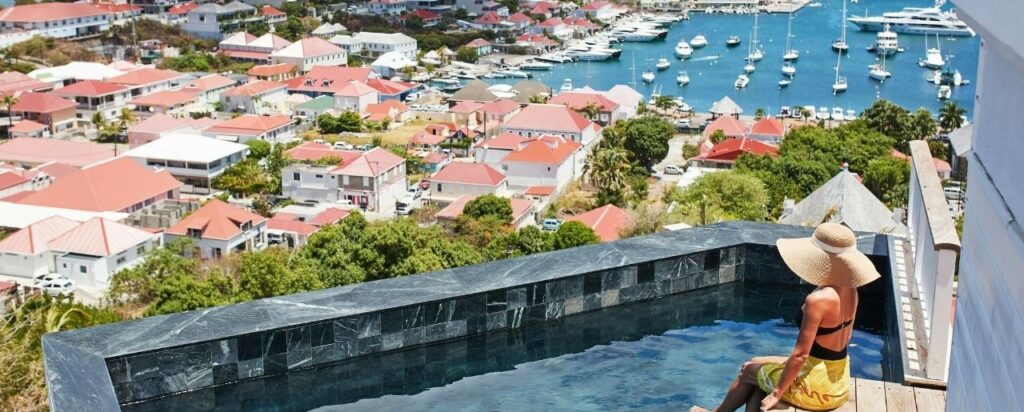 Ses 23 chambres et suites en témoignent, agencées par Gilles & Boissier, ont créé une ambiance charmante où la lumière filtrée du soleil crée des reflets changeants d'ombre et de lumière. Les tissus simples et les matériaux naturels tels que le bois et la pierre ajoutent à l'attrait, tout comme l'emplacement de l'hôtel sur une colline basse qui se dresse au-dessus des paysages époustouflants de la mer et du ciel comme un toit-terrasse tropical "altana".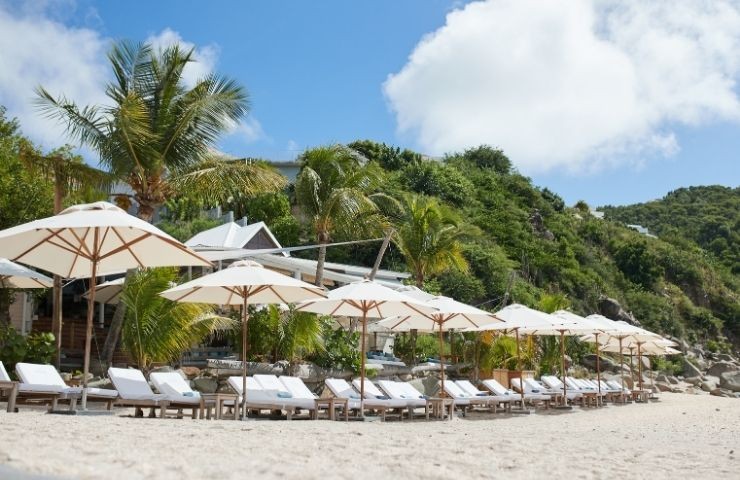 Le résultat est un esprit " French Riviera " sous les tropiques. C'est l'endroit idéal pour des vacances romantiques ou pour passer du temps en famille ou entre amis, en appréciant les plaisirs simples d'être avec ceux que l'on aime.
Tout est à proximité : l'idyllique plage de Shell Beach et son superbe restaurant Le Shellona, cadre idéal pour se détendre, à cinq minutes à pied ; le port animé, avec ses ruelles tranquilles et ses boutiques romantiques et sophistiquées, et les piscines naturelles de Grand Fond et de Petit-Cul de Sac.
Sans oublier le célèbre restaurant Le Fouquet's, qui a fait le voyage depuis Paris pour offrir à ses clients la délicieuse et passionnante cuisine créée par le chef 3 étoiles Michelin Pierre Gagnaire. À Saint-Barth, l'hôtel Barrière* Le Carl Gustaf offre un véritable luxe de style caribéen.
Mais un restaurant peut en cacher un autre, Le tout nouveau Beefbar St barth, que l'on retrouve aux 4 coins du monde. Le Beefbar est le reflet de la culture cosmopolite créé par Riccardo Giraudi. Adresse incontournable monégasque depuis 2005, Beefbar s'installe dans les plus beaux lieux du monde tels que Paris, New-York, Mykonos, Londres, Hong Kong et désormais St Barth. Découvrez une carte "street food" internationale décomplexée, cassant les codes de la cuisine telle que vous la connaissez.
Savourez des viandes sélectionnées avec le plus grand soin au Japon, aux Etats-Unis ou encore en Australie. Beefbar, c'est là où Black Angus, Kobe et Wagyu se mêlent à la mer et au végétal, où la cuisine se déguste et se partage. Là où le cordon bleu s'accommode de truffe, où les bao buns se parfument au thé jasmin et où les pièces de viande se parent de l'incontournable sauce Beefbar. Des goûts francs et une cuisine généreuse pour ravir tous les goûts et tous les appétits. Du déjeuner au dîner, Beefbar propose une carte décomplexée, cassant les codes de la cuisine traditionnelle et conjuguant à la fois simplicité et savoir-faire. Des produits d'exception au sein d'un lieu unique : une recette magique.
Visitez le site internet pour découvrir le forfait "spécial réouverture" avec 2 nuits en suites de luxe, vue mer & piscine privée, soins, cocktail, mini-croisière en catamaran dans des lieux paradisiaques : https://www.hotelsbarriere.com/fr/saint-barth/le-carl-gustaf.html
Crédits photos : © Groupe Barrière – Le Carl Gustaf St barth – Hugo Allard.
AMILCAR MAGAZINE GROUP
Selection by : Alexandre Joulia-Helou, photographer and deputy editor of AMILCAR MAGAZINE GROUP.
AMILCAR MAGAZINE to discover on Linktr.ee :   https://linktr.ee/amilcarmagazine

Publishers:
Rachel Joulia-Helou, editor-in-chief of AMILCAR MAGAZINE GROUP.
Alexandre Joulia, photographer and deputy editor of AMILCAR MAGAZINE GROUP.
More information about AMILCAR USA – AMILCAR CANADA – AMILCAR UK MAGAZINE :
AMILCAR MAGAZINE GROUP :
AMILCAR MAGAZINE & THE RIGHT MAGAZINE ISSUE :
AMILCAR CLUB GROUP :
Discover our brands in the windows of the Club Amilcar on B Signature Group:
Discover our members in the windows of the Melià Paris Opéra hotel: Hôtel Paris Opéra Affiliated by Melia :
Address in Paris : 3 Bd Montmartre, 75002 Paris – click here